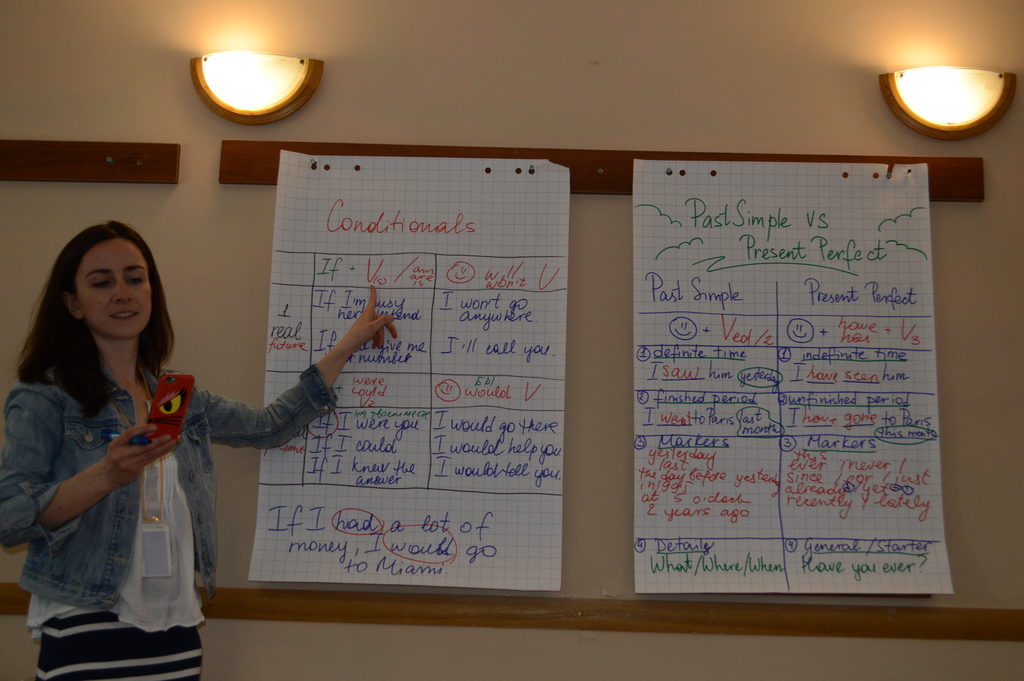 Sorry for my silence.
Our Intensive Course is really nonstop — I have no time for sleep, no time for the internet.
Every day we wake up and go to a morning song lesson. Every day we sing a famous song, trying to recognize its text. Then we do morning gymnastic, speaking and counting. After breakfast we have a lot of activities — grammar drilling, spelling one by one, training in computer class, reading new topics... And each activity is like a game and is very fun. LOL nonstop, really.
Every evening we have an English Club — a reality game between teams.
Two days ago there was the Brain Ring. We tried a riddle game. My team named itself «Beatles». We answered well for each riddle except one: Who had said the sentence «we are God in rock music»? All other teams answered «Beatles» and only we answered «The Rolling Stones». It was an epic fail. But we won in final.
Yesterday night we played Poker Club — each of us told a story about his life, and others tried to guess, if it was true or false. The friends in my team believed in all my fairy tales.
It is prohibited to speak Russian for the entire week. Today I spotted, that I start to think in english! It was a surprise for me. If anybody calls me, I should answer in english. It's good that nobody calls me. I spoke on my mobile only twice: with a Green Party coordinator and with a stupid spammer.
The stupid spammer chose a suitable moment to call. When I answered «Hello?» he started speaking Russian: «Zdravstvuite, menya zovut Andrey, ya predstavlau Centr Angliiskogo Yazyka i hotel by rasskazat o nashei programme, skajite, vam udobno seichas govorit? Kak k vam obrashatsa?..» «Of course, Andrey! — I answered. — I listen you with attention! But I can't speak russian. Speak english please!» Stupid spammer from English Center was totally stumbled. He took a long pause and broke up the conversation. I advise you to use this method!
Google translate:
Простите за мое молчание.

Наш Интенсивный курс действительно без перерыва — у меня нет времени для сна, нет времени для интернета.
Каждый день мы просыпаемся и пойти на урок Утренняя песня. Каждый день мы поем любые известные песни, пытаясь распознать ее текст. Тогда мы делаем утром гимнастические, выступая и подсчета голосов. После завтрака у нас есть много мероприятий — грамматика, правописание бурение один за другим, обучение в компьютерном классе, чтение новых тем ... И каждый вид деятельности, как игра, и очень весело. LOL без остановок, на самом деле.
Каждый вечер у нас английский клуб — реальность игра между командами.

Два дня назад был Brain Ring. Мы судимое загадку игры. Моя команда назвали себя «Битлз». Мы ответили хорошо для всех загадка, кроме одного: Кто бы сказал фразу «Мы Бога в рок-музыке»? Все остальные команды ответили «Битлз», и только мы ответили «The Rolling Stones». Это был эпический провал. Но мы выиграли в финале.

Вчера вечером мы играли Pocker Club — каждый из нас рассказал историю о своей жизни, а другие пытались угадать, это было истинным или ложным. Друзья в моей команде верили во всех моих fairtales.

Запрещено говорить по-русски в течение всей недели. Сегодня я заметил, что я начинаю мысли на английском языке! Это было для меня неожиданностью. Если кто-то звонит мне, я должен ответить на английском языке. Это хорошо, что никто не называет меня. Я говорил на моем мобильном телефоне только дважды: с координатором партии зеленых и с глупой спамера.

Глупая спамер выбрал подходящий момент для того чтобы позвонить. Когда я ответил «Привет?» Он начал говорить по-русски: «Zdravstvuite, Menya zovut Андрей, я predstavlau Centr Angliiskogo Yazyka I Hotel посредством рассказат O nashei программы, skajite, VAM udobno сеичас Говорит? Kak к VAM obrashatsa? .. »« Конечно, Андрей! — Я ответил. — Я слушаю вас с вниманием! Но я не могу говорить русский. Говорить по-английски, пожалуйста! »Глупый спамер из английского Центра был полностью споткнулся. Он взял длинную паузу и разогнали разговор. Я советую использовать этот метод!